La Trobe University, Australia
After working together for almost 10 years, in early 2019 La Trobe and Sheffield Hallam decided to strengthen their relationship and create a new strategic partnership.
By establishing this partnership, we recognised opportunities to provide students with an international learning experience, to work collaboratively on research and innovation projects with global impact, and to share good practice and innovative approaches to higher education.
One year on, there have been significant developments. We have
jointly developed and validated an innovative new degree programme: the BSc (Hons) International Hospitality and Tourism Management International Collaborative Programme
set up a new Semester Abroad programme, providing an opportunity for up to 50 students from each university to spend one semester abroad. This bespoke exchange offer will enable students from La Trobe to study for one semester at Sheffield Hallam University, gaining transferable credit and a Sheffield Hallam University Award.
brought our students together through collaborative projects, including an innovative audio theatre piece and online history project
secured significant external research funding, including $1.8m to boost dementia research through a collaboration between Swinburne University, La Trobe and Sheffield Hallam
created an internal research co-funding scheme to support 20 collaborative projects
started developing a critical friends network for doctoral students
signed a joint PhD contract, where each university will provide funding for three PhD students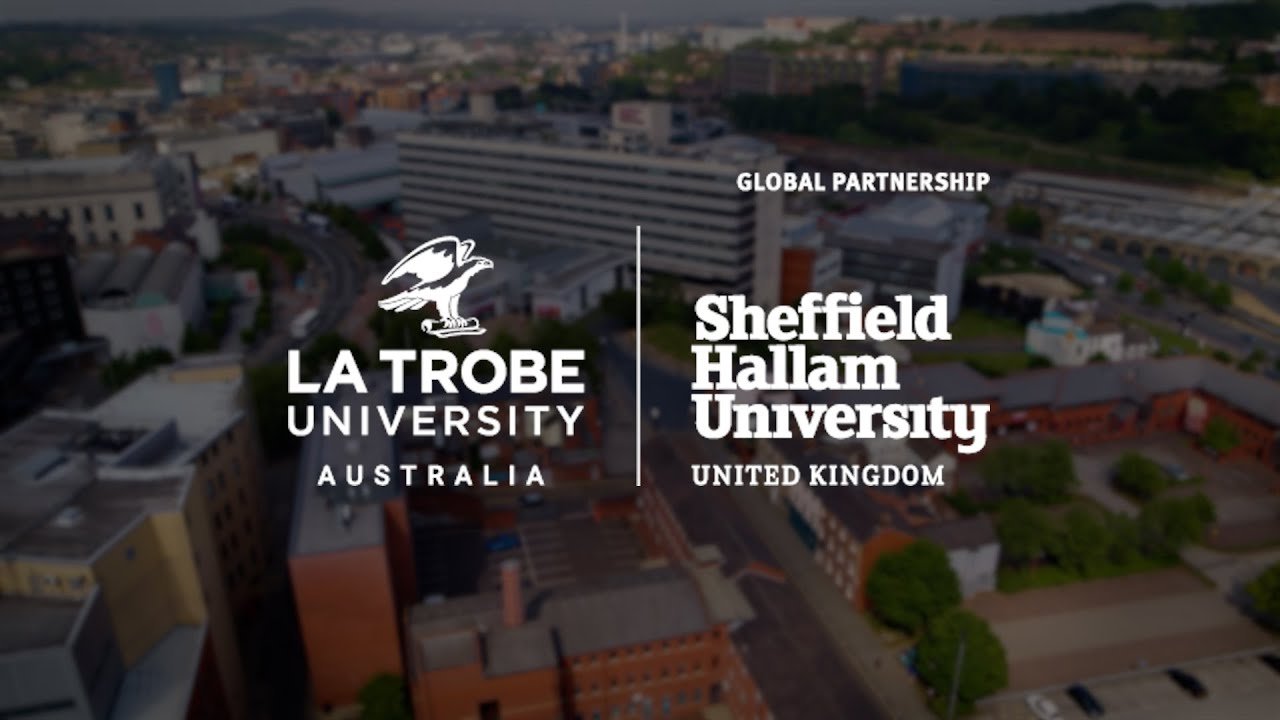 Our partnership
La Trobe is a great match for a partnership with Sheffield Hallam, as we both
share a vision of the transformative power of universities
believe in the importance of providing students with opportunities to succeed at whatever they choose to do, irrespective of their background and personal circumstances
consider education and research as having the potential to address the most significant social, cultural and economic challenges
Both universities are connected to our regions. A significant proportion of our students come from within our respective regions, and we both provide opportunities for students who are from non-traditional backgrounds and/or the first in their family to attend university.
Alongside this, we both have an international profile – connecting globally to provide an international perspective to our teaching, learning and research.
About La Trobe University
La Trobe has been one of Australia's pioneering universities for more than 50 years. Established in 1967, it now accommodates more than 36,000 students, with over 7,000 international students from 110 countries.
Featured in the top 400 of all three major world university rankings, La Trobe is one of only 12 universities to achieve 100% world-standard success in the 2018 Excellence in Research for Australia report. All broad areas of research are rated at, above, or well above world standard.
La Trobe demonstrated its global impact in the latest Times Higher Education Impact Rankings – placing fourth in the world and third in Australia for overall contribution to the United Nation's Sustainable Development Goals (SDGs). It also ranked first in the world for protecting and restoring life on land, and second for gender equality. Find out more about La Trobe's rankings and ratings.