Scientists to develop revolutionary solution to back pain
Thursday 14 February 2019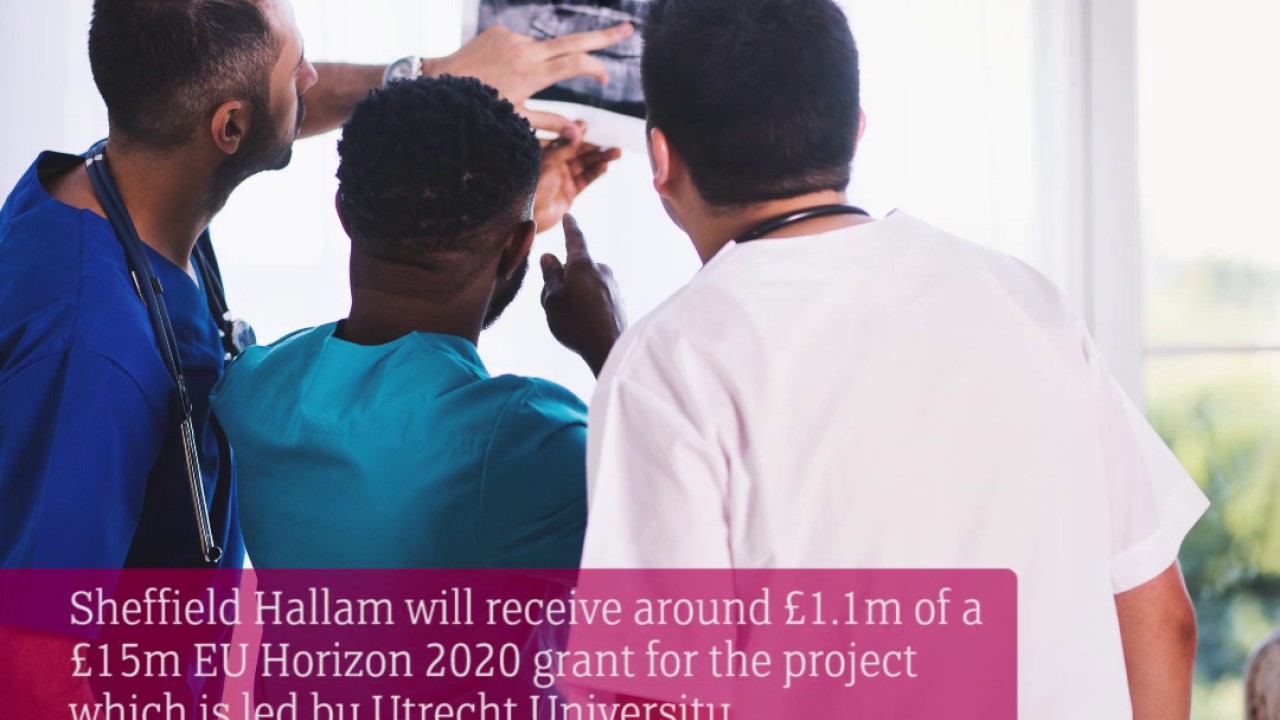 A multi-million pound revolutionary research project which aims to regenerate damaged spinal discs and cure back pain, has begun at Sheffield Hallam University.
Each year, back pain costs the NHS around £1bn to treat, but this five-year project led by Utrecht University in the Netherlands, will see a team of scientists and engineers from across Europe develop a technique to use stem cells to repair and regenerate spinal discs and restore them to the condition they would have been up to 30 years ago.
Sheffield Hallam will receive around £1.1m of a £15m EU Horizon 2020 grant - combining expertise from two of the University's leading research centres.
Researchers from the institution will look into the behaviour of stem cells when combined with other bio-materials to establish their suitability and use in the revolutionary treatment.
If successful, it is hoped cells can be injected directly into spinal discs, thus enabling them to regenerate. This will restore them to how they would have been when the patient was about 18-20 years old.
The team hopes to have the technique going through human clinical trials after five years of research.
Globally, around 80% of people will suffer some form of back pain, with 40% of those people being suitable for this treatment.
The new treatment will be aimed at 'working age' sufferers (those between 30 and 50 years old) in order to cut the number of otherwise healthy people having to quit work or change jobs due to back problems. Estimates say that back pain costs the UK economy £20billion a year through loss of work and absentees.
At Hallam, the project will be led by Christine Le Maitre, Professor of Cell Biology and Tissue Regeneration and a part of the University's Biomolecular Sciences Research Centre; and Chris Sammon, Professor of Polymer Science from the Materials Engineering Research Institute (MERI).
Professor Le Maitre said: "Lower back pain affects millions of otherwise healthy people worldwide, detrimentally impacting how they work, socialise and travel. This Pan-European research will look to develop revolutionary techniques which could save billions in lost work days, help prevent pain and get people back on their feet."
Professors Sammon and Le Maitre have previously worked together on similar research in 2017 when the pair developed a range of revolutionary hydrogels in order to remedy degenerative disc disease.
Hydrogels are 3D crosslinked polymer networks containing large amounts of water. The researchers have developed a method of manufacturing hydrogels that can be injected into mammals using narrow gauge needles - minimising localised tissue damage and free of any toxic effect.
Professor Sammon, whose team invented the hydrogel added: "The hydrogel was discovered during another project which involved looking at ways to make responsive materials using clays as crosslinkers. From here, working with Christine, we looked into its potential to support cell growth.
"We are very optimistic about this new project, and the level of funding shows the value in working on cutting edge, multidisciplinary projects and vindicates all the hard work that the team has put in so far."
The project is a collaboration between Sheffield Hallam and 20 other partners across Europe and is led by Utrecht University. Professor Marianna Tryfonidou, project lead at Utrecht University, said: "Developing a treatment that can rejuvenate problematic intervertebral discs by advanced stem cells, is a very complicated process."
"That's why we need the unique expertise of the 20 different partners. Five years from now, we will prove that this treatment is safe and the first steps in clinically relevant models will be taken bringing us closer to the patients."
Sheffield Hallam University is a national leader in creating innovative and real-world solutions for tackling today's health and well-being challenges.
The University specialises in healthcare research and its practitioners, scientists, engineers and designers regularly collaborate to create innovative solutions to global health challenges.
For press information: Tim Ward in the Sheffield Hallam University press office on 0114 225 5220 or email tim.ward@shu.ac.uk